Vision and Mission Statement
To make the best saxophone mouthpieces in the world
We believe "music" occurs when musicians share joy with audiences. We wish to support those times with our mouthpieces, so we give our whole hearts to carefully making each and every one of them.  
Origin
     Masahiko Goto began playing saxophone and joined a local community band in 1990 and fell in love with Jazz.  He gradually became unsatisfied with standard mass-produced mouthpieces, desiring to play on something of higher quality.  The classic vintage mouthpieces held the quality he desired, but they are not easily obtainable.  He then decided to start creating mouthpieces himself from scratch, and founded "Gottsu" in 2005, which is taken from his own childhood nickname.  Since then, he has been dedicated to creating the very best mouthpieces, all for the passion of Jazz.
     In 2008 Gottsu released the Sepia Tone line of mouthpieces and it quickly became one of the country's favorite mouthpieces. In 2014 Gottsu began manufacturing mouthpieces, with the exception of the original Sepia Tone Line, using a CNC (Computer Numerical Control) machine, combining precision machining with traditional hand-craftsmanship.  In 2021, Gottsu acquired the ability to craft Silver, releasing its original Silver ligature, followed shortly by the "Masahiko Goto" Signature mouthpiece.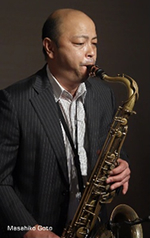 Playing saxophone brings joy and happiness not only to players but also to listeners, with beautiful sounds and melodies that cheer you up at times. I think those are wonderful moments. My goal will be achieved not only when we make mouthpieces but also when musicians perform with Gottsu mouthpieces on stage and share happiness with their audiences. I am so proud to support those moments with my mouthpieces. 
—Masahiko Goto—
The Mouthpiece Production Process
3D Binaural Recording of Gottsu Mouthpieces
---
Binaural recording is a method of recording sound that uses two microphones, arranged with the intent to create a 3-D stereo sound sensation for the listener of actually being in the room with the performers or instruments. This effect is often created using a technique known as "dummy head recording", in which a mannequin head is outfitted with a microphone in each ear. Binaural recording is intended for replay using headphones and will not translate properly over stereo speakers. This idea of a three dimensional or "internal" form of sound has also translated into useful advancement of technology in many things such as stethoscopes creating "in-head" acoustics and IMAX movies being able to create a three dimensional acoustic experience.  
We have binaurally recorded each Gottsu mouthpiece in order to give you an accurate representation of what it sounds like.  You can find these binaural audio clips in the Products page for each mouthpiece.  Please listen with headphones for the best experience.