Vision and Mission Statement
To make the best saxophone mouthpieces in the world
We believe "music" is the time musicians share joy with audiences. We are hoping to support those times with our mouthpieces, so we give our whole hearts to carefully making each and every one of them.  
Origin
Masahiko Goto began playing saxophone and joined a local community band in 1990 and fell in love with Jazz.  He gradually became unsatisfied with off-the-shelf mouthpieces because they were of low quality.  He then decided to start creating mouthpieces himself from scratch, and founded "Gottsu" in 2005, which was named after his own childhood nickname.  Since then, he has been dedicated to creating the very best mouthpieces for the passion of Jazz.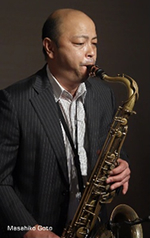 Comments from Masahiko Goto 
Playing saxophone brings joy and happiness not only to players but also to listeners, with beautiful sounds and melodies that cheer you up at times. I think those are wonderful moments. My goal will be achieved not only when we make mouthpieces but also when musicians perform with Gottsu mouthpieces on stage and share happiness with their audiences. I am so proud to support those moments with my mouthpieces. 
—Masahiko Goto—
Values
Tone Ideology
Masahiko Goto believes that the saxophone sounds like vocalization when played well and that the mouthpiece is a key component to attaining that tone. Therefore, all Gottsu models are the outcome of his pursuit of voice-like harmonic overtones. 
Mouthpiece Role
The tone produced by a saxophone is determined, for the most part, by the mouthpiece. As an analogy, if the saxophone was the body of a car, the mouthpiece would be the engine.  Just as a car's performance is affected by the engine, the mouthpiece affects the saxophone's tone. That is why we at Gottsu select quality materials, take "in-house" crafting seriously, and hand-finish each mouthpiece.
Connection to History
Masahiko has studied various mouthpieces while refacing them, and is especially impressed by vintage mouthpieces which were made during the golden era of Jazz (1930s-50s). He is able to see the maker's precise craftsmanship in each of the vintage mouthpieces. The Gottsu vintage model exists to create a fusion between vintage mouthpieces and modern music. 
Refining the Tip and Side Rail
The thickness of the tip rail and side rail is an important aspect of the mouthpiece because it has the greatest influence on sound quality. Masahiko Goto exhaustively determines the best thickness of tip and side rail for each Gottsu model. We normally make over 100 test mouthpieces to find the best tip and side rail for each model.   
Gottsu Original Technique
G-Tune
G-Tune is a special facing technique developed by Masahiko Goto, and is performed on all Gottsu mouthpieces during the final handcrafting stage. This makes them easy to blow on and allows them to achieve a beautiful tone.  Additionally, all mouthpieces refaced by Gottsu are done with the G-Tune technique and will be stamped with the "G" seal as proof.
The Mouthpiece Production Process
Selecting the right material is an important step in making good mouthpieces. Gottsu carefully selects material for each model, and only the highest quality material is utilized for Gottsu mouthpieces. 

 

Metal Materials

If you look at vintage metal mouthpieces, the brass looks to be the same as in current metal mouthpieces. However, the composition is different. Gottsu has studied the composition of many renowned, vintage mouthpieces from 1930s, and selected the most similar metal composition to vintage brass.  For the Metal HL 2018, specifically,  Gottsu selects custom-made Tin.  

 

Rubber Materials

The most important characteristic for a mouthpiece's material is to be able to resonate with various timbres, not only a specific timbre. Ebonite (hard rubber) is the best workable material for that sound resonance. We collected and studied samples of hard rubber from all over the world, and selected the highest quality hard rubber. In addition, the material used in the VI marble and Soloist marble is Gottsu's own custom-made hard rubber material.  

 

Masahiko Goto studied programming and design for 8 hours every day for one year in order to be able to design and make high quality mouthpieces himself in the Gottsu factory.  The designs are made with a 3D rendering software, and are then programmed into a machine which sculpts the mouthpieces.  Gottsu takes quality seriously for all mouthpieces, so Masahiko Goto does in-house design and programming for all Gottsu models. 

Gottsu utilizes a "shaving-out" machining approach for both rubber and metal materials, which has been refined over the years to a high standard. Gottsu has implemented a new, 5-axis machining technology, which allows us to accurately shave the mouthpiece out of ebonite and metal sticks. Even with an identical mouthpiece design, the sound will change if the shaving process changes.  All current Gottsu models are the result of much trial and error due to the degree of difficulty in finding the best way to shave out a mouthpiece. 

After the machining, all mouthpieces are delicately finished by hand and tested by Masahiko Goto. This process promises Gottsu quality to all of our customers.  The mouthpieces, which are finished with Japanese precision, are like a work of art and easy to blow. Masahiko Goto always tests new models in his band to be sure that the mouthpiece is well balanced with other instruments before introducing it as a new model. 
Sepia Tone VI Marble Alto
Gottsu Mouthpiece Comparisson
Click the buttons below to hear clips of different Gottsu models.