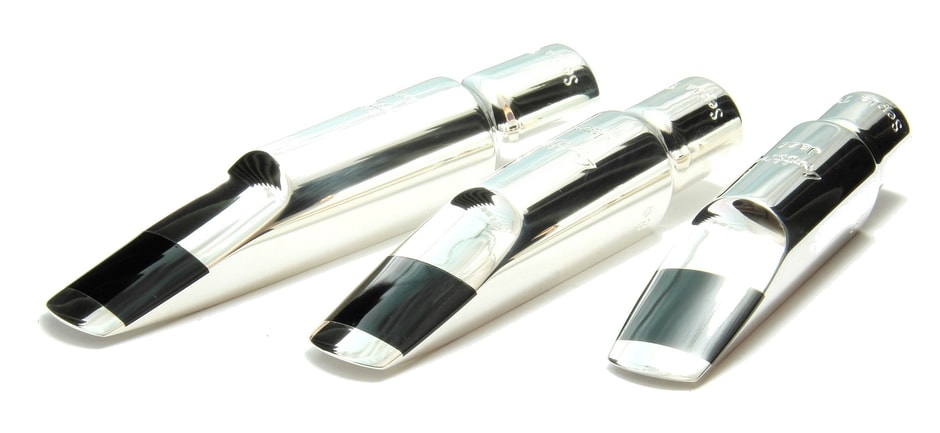 Sepia Tone Jazz Metal
The Sepia Tone Jazz Metal is Gottsu's standard metal model. It is crafted from Gottsu's vintage brass and plated with silver.  The Jazz Metal features a moderately bright, fat and edgy tone with good projection.
After making the Sepia Tone VI, an ebonite mouthpiece, I wanted to make a metal model. Because I play Tenor Saxophone, I own vintage metal mouthpieces, so I wanted to make a better mouthpiece than the vintage ones. That was how I started to make Jazz Metal. 
—Masahiko Goto—
Type: Baritone, Tenor, Alto, Soprano 
Opening size:  
Baritone: 6, 7, 7☆, 8, 8☆, 9) 
Tenor: 6, 7, 7☆, 8, 8☆, 9, 9☆
Alto: 5, 6, 7, 8 
Soprano: 4, 5, 6, 7, 8 
※see table below for mm sizing 
Material: Silver-plated Brass 
Chamber shape: Round 
Baffle: Roll-over baffle 
Feature and Tone: 
Bright, Fat, Outlined tone 
Style: Pop, Fusion 
* Natural cane reed recommended 
Crafting process of the Jazz Metal
Photos
Audio Samples
Tip Opening