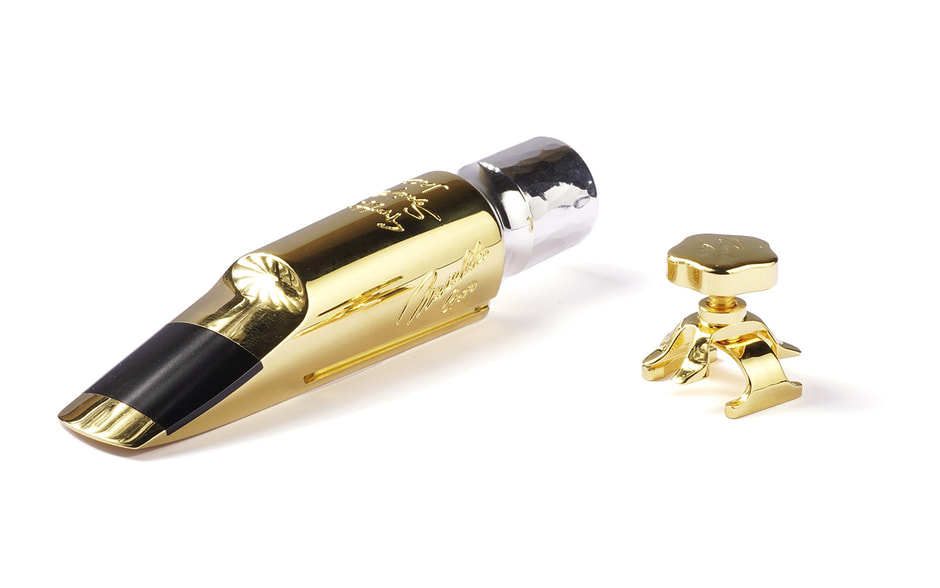 Sepia Tone Jazz Metal Signature
Gottsu has always taken an innovative approach to pursuing musical possibilities and producing mouthpieces of the highest quality. With that tradition and passion in our hearts, we have developed a new metal mouthpiece for tenor sax. By combining sophisticated design with outstanding playability, this mouthpiece aims to provide players with a completely new musical experience.
Based on the Jazz Metal, the Gottsu Jazz Metal Signature, completely reimagines metal mouthpieces by joining vintage brass and pure silver together to form a marvelous new hybrid mouthpiece. The main body of the mouthpiece, from the tip to the chamber, is made from Gottu's select vintage brass. The shank is made from SV950 Silver, which is hand-forged and machined to shape. The combination of brass and SV950 materials is the secret to maximizing the charm and expressiveness of the tone. The SV950 has an even tone and flexibility in the lower register, while the brass provides clarity and rich overtones in the upper register due to its sparkle and unique resonance. Both materials interact to enable nostalgic tones and expansive musical expression.
In addition, the new Gottsu "underscrew" ligature system, inspired the unique Lawton sliding ligature, accompanies the mouthpiece. The ligature slides into grooves cut parallel to the mouthpiece table, and utilizes a mechanism that presses the contact plate securely and evenly down onto the reed, which significantly improves performance over a conventional ligature.
We went through trial and error to see if we could use SV950 for the Jazz Metal shank, and from the development stage, we dug a groove for a sliding ligature parallel to the table to see if we could use a new slide ligature in the future. One day, I suddenly had an idea for the sliding ligature, and immediately started CAD production and machining. During the development stage, we made many prototypes such as the shape of the pressing plate and screws. Gottsu's new tenor sax metal mouthpiece is the result of the highest quality materials and technical excellence. This offers saxophonists even more musical possibilities.
—Masahiko Goto—
Instrument: Tenor 
Opening size:  89,90,95,100,105,110,115
 ※see table below for mm sizing 
Material: Gold-plated Brass, SV950 Silver
Chamber shape: Round 
Baffle: Roll-over baffle 
Features and Tone: Dark, thick and contoured 
Style: All 
* Natural cane reed recommended 
Tip Opening