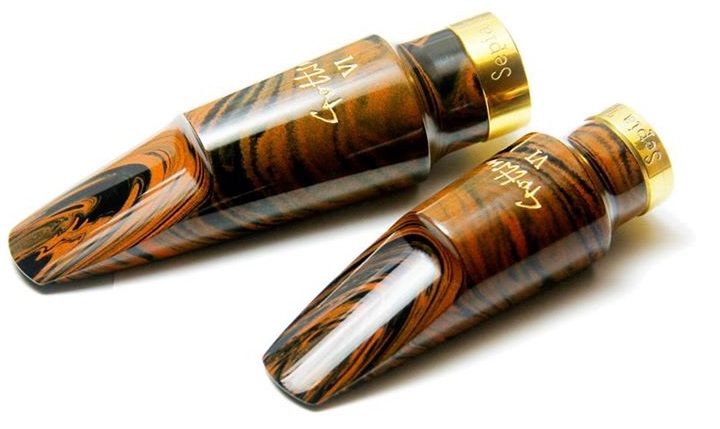 Sepia Tone VI Marble
The Sepia Tone VI Marble features an orange and black marbled pattern, as well as an 18k gold-plated ring.  The material is Gottsu's own custom-made hard rubber, so each mouthpiece has a different marble pattern.  Mixing the black and orange-colored hard rubber causes the mouthpiece to produce complex overtones.  The VI Marble has a focused sound and a slightly stronger sense of resistance (hesitation) in comparison to the Sepia Tone VI. 
I originally made this model simply to pursue the beauty of the mouthpiece; it did not cross my mind to introduce this mouthpiece as a Gottsu model, at first. However, a lot of professional saxophone artists tried and enjoyed it, and they wanted to have one of their own. Therefore, I decided to introduce it as new Gottsu model. The design is the same as Sepia Tone VI, but there are some miniscule changes in order to accommodate the marbled material.  
—Masahiko Goto—
Type: Baritone, Tenor, Alto 
Opening Size: 
Baritone (6,7,7☆,8,9)
Tenor (6,6☆,7,7☆,8,8☆,9) 
Alto (5,6,7,8) 
※see table below for mm sizing 
Material: Hard-rubber (Black and Orange)
Chamber shape: Round 
Baffle: Roll-over baffle  
Feature and Tone :
Dark, Focused, Freedom of expression, Easy blowing,
Easy to control, Stronger resistance, Powerful
Style:Jazz  
* Natural wooden reed recommended 
Photos
You can see the each types photos for Sepia Tone VI Marble.
Videos and Albums
You can click the album to listen Gottsu artists' albums with Gottsu Sepia Tone VI Marble.