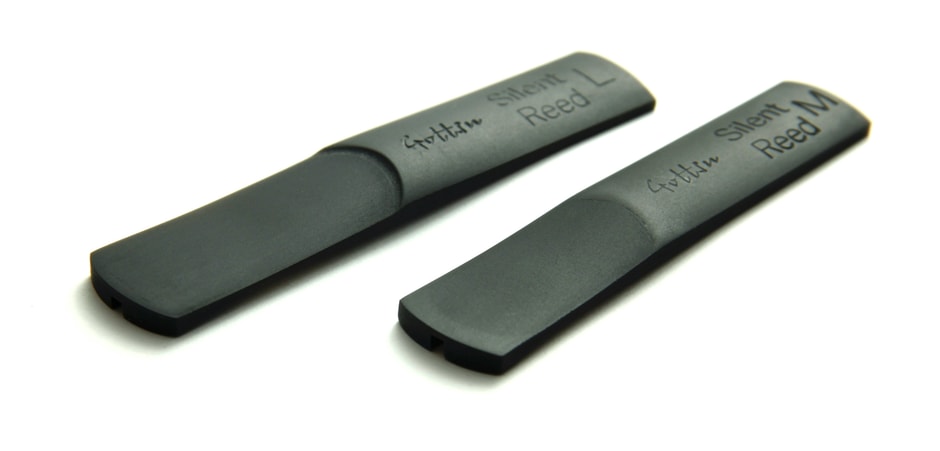 Silent Reed
The Silent Reed is shaped to prevent itself from vibrating and making sound.  It is a soundless reed that can be blown, anytime, anywhere, without disturbing your surroundings.  The feeling of playing the saxophone remains the same, and you can blow on it to your heart's content!  Why not enjoy listening to a saxophone recording as you play along? 
Use this reed also to train your breath control and abdominal and back muscles.  The blowing resistance will vary on mouthpieces of different opening sizes, so simply adjust the reed position for the desired resistance.  Set the reed slightly lower on the mouthpiece to reduce blowing resistance, or higher on the mouthpiece to increase resistance.
Instruments: Tenor, Alto, Soprano, Baritone, Bass Clarinet, B♭Clarinet
Material: Resin

 *Depending on the opening of the mouthpiece, there may be a small sound. This is a workaround.
   Soak the tip of the reed in hot water for about 10 seconds to temporarily soften it. Keep the mouthpiece 
   and reed in that state and cool with running water.
     I am always researching and developing mouthpieces to play with a good sound.  As a saxophonist, I always wondered how happy I would be if I could play anytime, anywhere, without disturbing those around me.  Due to the influence of Covid19, there are few opportunities to play and there is almost no place to practice, so I developed this reed with the hope that you will not stop playing the saxophone.  Practice until you can play normally and resume live activities!  The saxophone feels better when it makes a sound; I know that well enough.  However, I think it is also good practice to play with a small sound.  When breathing and playing, always remember to use your abdominal muscles and back muscles to breath deeply and firmly!  At first, you may feel uncomfortable with the lack of sound, but after a while, you will get used to it and feel like you are blowing normally.
Please see the Gottsu Silent Reed video first. https://www.youtube.com/watch?v=uhaTbPCqrak
— Masahiko Goto —