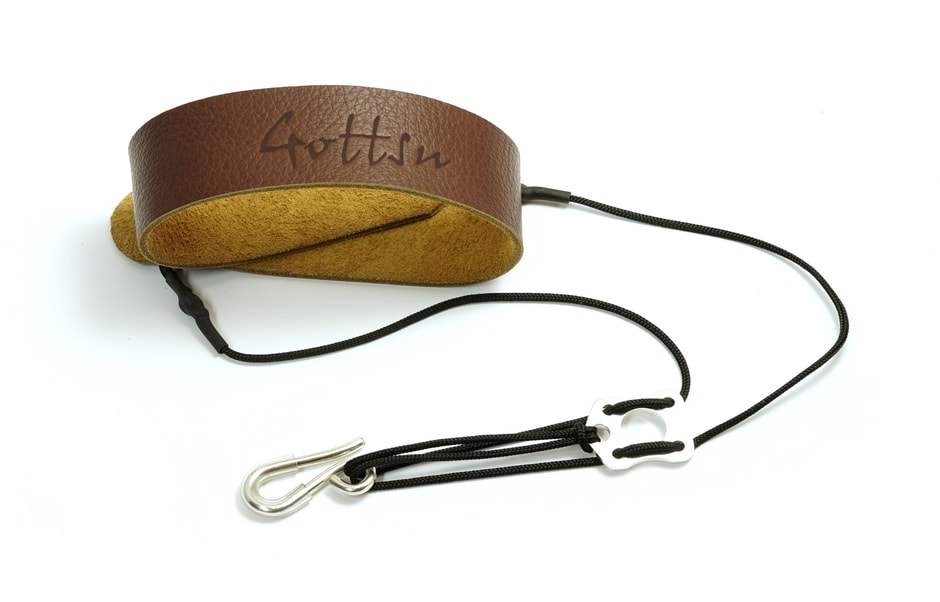 Gottsu Strap
Can a neck strap change the sound?
In a word, yes. It changes the sound and the feel of the instrument.
Gottsu's straps are made of carefully selected genuine leather.  Simple, light and comfortable to wear, they are the highest quality original straps. The plate and hook are made from pure silver to enhance both the tone and appearance of the saxophone. The hook is designed with a perfect gap to attach and detach easily but not when it shouldn't.
I believe all Saxophone players should be cool and stylish, even their strap, so I made the Gottsu strap to be both beautiful and comfortable. I found that the strap affects the tone of the saxophone, so I selected a certain real leather which does not absorb vibration. The real leather is neither too hard nor too soft, so it fits comfortably on your neck. In addition, the plate and hook are made from SV950 silver in order to pursue both beauty and tone. The strap plays an important role in supporting the saxophone, so it has been designed to be both lightweight and durable. 
—Masahiko Goto—
Types:  
Standard: 57~47cm 
Short: 53~44cm 
Material: Genuine leather, SV950 silver